A WORDPRESS DEFAULT THEME INDEXS WELL IN SEARCH ENGINE RESULT PAGES
June 01, 2014
The ColorWay WordPress template in 2012 was a WordPress goto theme. The author used the ColorWay responsive WordPress website template from 2012-2014 and found that the theme indexed well in Google's search engine result pages.
We back our statements up with data in The Nitty Gritty section of this post! But before we get to The Nitty Gritty let us comment on WordPress in general and ColorWay in particular.
Critiques take notice of the ColorWay WordPress template and recognise ColorWay as customizable and flexible. The ColorWay theme developed by InkThemes.com received honors as the best WordPress theme for 2012.
People create websites to organize content, create work flow, and attract the right viewers to their brand. A WordPress website can create this value for your company and enable your brands to quickly establish an online presence at little out-of-pocket expense.
WordPress is a popular website and content management system (CMS). Businesses and individuals alike choose WordPress because the WordPress community offers a bevy of inexpensive themes and templates. Moreover it may be easy to get a WordPress template installed and live. The template is then ready for website content development usually within a few hours.
A WordPress theme can be the right option for your company and brand whenever the benefit of a low cost solution outweighs the benefit of a customized solution. The hosting costs required to launch a WordPress website are minimal as well.
Smarty Pixels can help your company launch a WordPress website.
The Nitty Gritty
Data is collected and reported on the Google rankings of the author's website. The author's website is developed on the ColorWay Version 3.1 WordPress theme developed by InkThemes.com.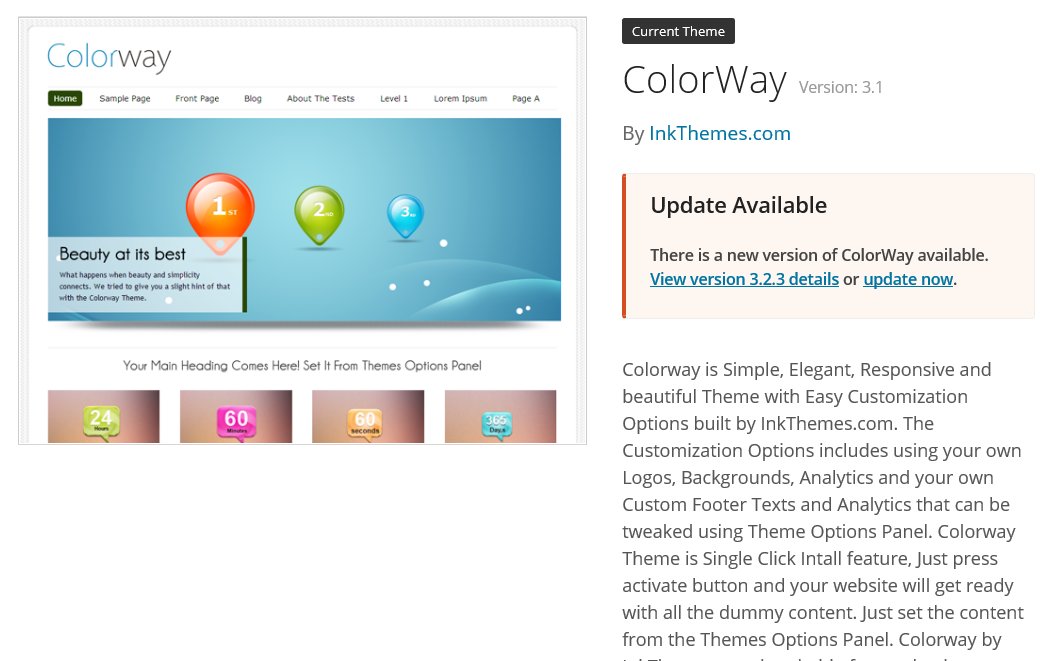 Method
This article reports the Google rankings for the author's website. The search phrase and the SERPS ranking are recorded. Data are collected on two interior pages of the website. A copy of the page is saved in PDF format.
Results
The data was collected on 13 September 2014. At that time the website had been running without website content development updates for well over a year. This means that Google had stabilized its indexing of the authors website.
The tutoring page was well optimized for long tail search phrases, the page title, HTML tags, and topic. Download a snapshot of how the page looked [here].
| Search Phrase | Google SERPS Index |
| --- | --- |
| math tutor bethel park [data] | 66 |
| remedial math tutoring bethel park [data] | 6 |
| math tutor fox chapel [data] | 45 |
| remedial math tutoring fox chapel [data] | 4 |
| math tutor mt lebanon [data] | 43 |
| remedial math tutoring mt lebanon [data] | 12 |
| math tutor upper st clair [data] | 32 |
| remedial math tutoring upper st claire [data] | 3 |
The Custom Websites page was not well optimized. In particular there are too many topics on this page. Download a snapshot of how the page looked [here]. The pages performed poorly in Google SERPS.
Conclusions
The data in this experiment suggests that the performance of a particular page of a website depends upon the skill of the search engine optimizer (SEO) doing web content development for that page. The data suggests that performance in the Google Search Engine Result Pages (SERPS) does not depend upon the content management system chosen to manage the website. Well written pages perform well and poorly written pages give lackluster performance.
In conclusion choose a content management system — WordPress or otherwise — that fits your budget and makes it easy for your web content developer to update content for your brand. Then choose the best possible SEO you can afford.
Do you have a comment or an opinion you will like to express?
Share your opinion or comment.